Episode 90: Black Medal of Honor Recipients in WWII
Rob Child, author, Immortal Valor: The Black Medal of Honor Winners of World War II
Sunday, January 23, 2022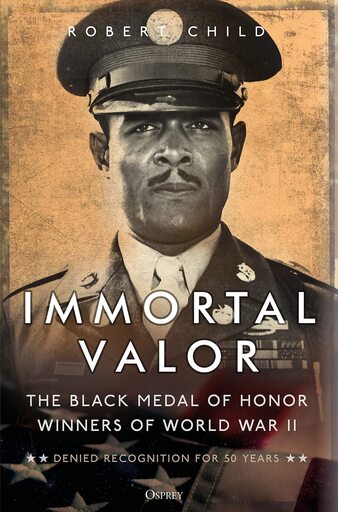 This week on History Happy Hour: In 1945, the US Congress recommended awarding the Medal of Honor to 432 recipients. In spite of the fact that more than one million African-Americans served in World War II, not a single Black soldier made the list. Not Vernon Baker, who single-handedly eliminated three enemy machineguns and an observation post Not Sergeant Reuben Rivers, who spearhead his tank unit's advance against fierce German resistance for three days despite being grievously wounded. Not even Lieutenant Charles Thomas, who led his platoon to capture a strategically vital village on the Siegfried Line in 1944 in spite of losing half his men and suffering a number of wounds himself.
It took more than 50 years for the Army to honor these and other black soldiers with the Medal of Honor. Host-historians Chris Anderson and Rick Beyer welcome Robert Child to talk about his new book: Immortal Valor: The Black Medal of Honor Winners Of World War II. Learn about their extraordinary heroism and explore why recognition was denied them so long. This Sunday at 4PM ET on History Happy Hour, the spot where history is always on tap.
---
Robert Child has spent 20+ years in Television and Film and is an Emmy nominated producer/director. He is a published author of fiction and nonfiction, and has appeared on 75+ Film and TV credits on IMDB. Among his films is
The Wereth
Eleven, the story of Black GIS massacred by the SS. He has garnered more than 25 writing and directing awards.