History Happy Hour Episode 132: Humor in Hell
Guests: Peter Hart & Gary Bain
Sunday, February 12, 2023
This Week on History Happy Hour: Humor helped the British soldier survive the terrible ordeal they faced in the trenches during WWI. They may have been up to their knees in mud and blood, but many were still determined to see the 'funny side', rather than surrender to utter misery.
Chris and Rick welcome Peter Hart (third time!) and Gary Bain, From Pete and Gary's Military Podcast, to talk about their new book Laugh or Cry: The British Soldier on the Western Front. Glimpses of the awful truth through the dark humor of the soldiers who were there.
Humor in Hell, Sunday ta 4PM On History Happy Hour, where history is always on tap.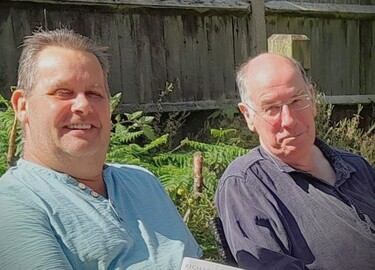 PETER HART worked as the Oral Historian of the Imperial War Museum from 1981-2020. He has interviewed thousands of veterans, and is the author of many military history books on the First & Second World Wars. This is his third appearance on History Happy Hour.
GARY BAIN joined the Junior Leaders and served in the Royal Army Ordnance Corps working with the Intelligence Corps before leaving the army and rising in civilian life to be Head of Commercial at Transport for London. He is the co-host, with Peter Hart, of the popular Pete and Gary Military History Podcast.