Episode 62: D-Day Special
Guests: Gile Milton, Joe Balksoki and Craig Symonds
Sunday, June 6, 2021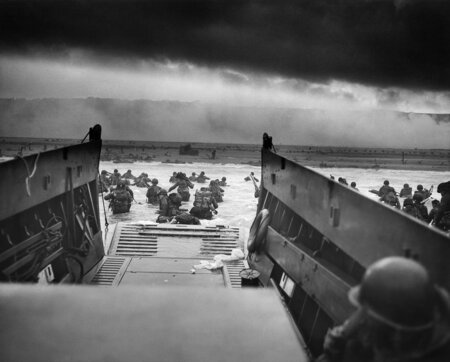 This week on History Happy Hour: Host Historians Chris Anderson and Rick Beyer remember the 77th anniversary of the Normandy Landings with a 90 minute D-Day Special. Rick will be live from the National D-Day Memorial, and three distinguished guests will join us for a D-Day discussion. The show will begin with author Giles Milton, and a look at his riveting account of the first 24 hours of the D-Day invasion as told through a symphony of incredible accounts from both sides. The book is Soldier, Sailor, Frogman, Spy, Airman, Gangster, Kill or Die: How the Allies Won on D-Day . Then we'll be joined by historians Joe Balkoski (Omaha Beach, Utah Beach) and Craig Symonds (Operation Neptune) for a freewheeling five-way discussion on D-Day Controversies. And we have a few surprises as well, Join us for a very special History Happy Hour Sunday, June 6 at 4PM ET. The spot where history is always on tap.
---
Giles Milton is the author of 16 non-fiction books, including Churchill's Ministry of Ungentlemanly Warfare: The Mavericks Who Plotted Hitler's Defeat, and the 1999 bestseller, Nathaniel's Nutmeg. He is a Trustee of the London Library and lives in London and Burgundy.
---
Considered the dean of D-Day historians, Joe Balkoski has written eight books on American forces fighting in Europe in WWII. This includes his two books on D-Day: Omaha Beach and Utah Beach, perhaps the definitive study of those battles.
---
Craig Symonds is a distinguished naval historian who taught for more than 30 years at the U.S. Naval Academy and has most recently been the Ernest J. King Distinguished Professor of Maritime History U.S. Naval War College. A former Navy officer, he is the author of many books on American naval history.